SERVICES:
The ShipShape Co. does boat CLEANING the right way; anyone can "detail" a boat, few can properly CLEAN one. First we remove everything from the cockpit; you can't clean it if it's full of stuff. Then, we clean everything everywhere. Not "detailing" or wiping down, but full-on ShipShape Cleaning. The cover &/or canvas & isinglass, carpets, ceiling / bimini & supports, seats, storage, all cockpit surfaces, exterior gelcoat, nonskid, waterline, etc. We clean the cooler, bumpers, shore power cord, shore power pedestal, hoist control box, dock lockers, etc. We will even remove the spiderwebs on your dock or on the adjacent fingers around your boat (marina) so that you and your family doesn't walk into a face full of spiderwebs.
After it's clean, then we do Routine Express Washes before you arrive. Routine Express Washes are much faster, generally about 1/4-1/3 the time of the full-on ShipShape Cleaning. We don't need to do as much work to keep the boat looking good, but we still net a similar result as when we spent significantly more time on your boat.
Need a coat of wax to protect the finish from the elements and oxidation? We hand apply wax (think Karate Kid, wax-on wax-off… and not some watered-down spray-on stuff) to all smooth gelcoat surfaces from the waterline / bottom paint to the top, including accessories on the roof. We use a piece of encapsulated foam so that we can reach the 1/3 of the boat that is unreachable from the dock. (Many of our competitors mock this technique but how else do they protect the front of the boat.) Are you catching the drift that when we do a project we do it the right way?
Does your boat shine? Really shine? Has oxidation began to form which will detract from the luster? Is your boat completely oxidized and has as much shine as concrete? We can buff with rubbing compound to remove the oxidation; either a 'gentle' compound or something more 'aggressive' which will remove the oxidation and polish it to a glossy, shiny surface. Then we apply a wax to protect the gelcoat and slow the oxidation from returning.
If you have a boat with colored hull sides, we have the answer for never having water-spots again. Removing the water-spots is one thing, but keeping them from coming back is a trick that most people are amazed by. Lots of people use vinegar to remove water-spots but it also removes the wax that we worked so hard to apply. It has nothing to do with drying the boat immediately after washing; it has everything to do with the water that's used to wash the boat. And no, we don't use that fancy reverse-osmosis device or softened water from your house.
After you are finished with the boat just tie it up and walk away. We'll take care of shutting the boat down so you can maximize your time on the water and knot need to finish boating early so you can do the shut-down-chores; putting the cover on / putting up Isinglass and canvas up, removing garbage, general straightening up and anything else you want. We'll even cover PWC's too so you don't need to 'fight' those covers too.
We are happy to help with your boating laundry; we'll pick up dirty sheets, blankets, towels, etc and launder them while you are away and return them before you arrive.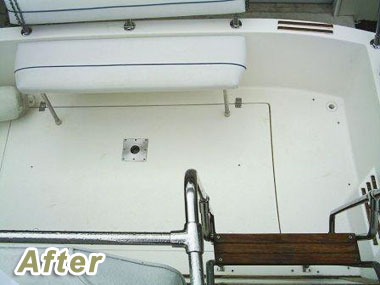 We can also help with a myriad of random dock-chores, like setting up dedicated docking lines so that the swim platform of your floating boat sits ~12" from the dock so that its not a big step to board, setting up lines so that your lifted boat is positioned perfectly on the lift the first try every time.
We can help with fueling your boat, pump out, filling water holding tank, etc.
Many boat owners have had us install Dri-Dek in storage compartments so that the contents are elevated off the floor to allow ventilation and prohibit the growth of mildew. (http://www.dri-dek.com)
If you don't have D-icers we can deliver and install D-icers for the winter. We even remove them and clean them as good as new before putting them away in the spring.
We're OCD when it comes to organizing dock closets & lockers.
If there is anything that is not on this list but we'd be able to help, please let us know and we'll be glad to take care of it!